About Us
Cafe Zanetti Bar & Restaurant is located on Upper Heidelberg Road, Ivanhoe VIC.
Our menu offers a wide range of Cafe specialties such as Panko Crumbed Chicken and Chicken Risotto, Chicken and Potato Pizza and many more.
You can order online from us by clicking the ORDER ONLINE button.
We look forward to serving you.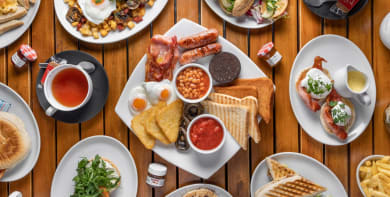 Menu
Vegetarian Risotto
With zucchini, eggplant, mushroom, and roasted pumpkin,topped with rocket and fresh parmesan
$21.90
Roasted Pumpkin Pizza
Napoli, mozzarella cheese, caramelised onion, roasted pumpkin, baby spinach and feta
$17.90
Calabrese Salami Pizza
Calabrese salami, roasted peppers, mushroom, feta and olives
$18.90
Chicken and Potato Pizza
Chicken breast, napoli, mozzarella, and roasted potatoes, topped with sour cream, sweet chilli and rocket
$18.90
Slow Cooked Beef and Red Wine Ragu Papardelle
With mushrooms, carrots, and marjoram, topped with shaved locally made pecorino
$23.90
Pan Grilled Tiger Prawn and Scallop Linguine
With tomato, garlic, zucchini ribbons and a white wine sauce
$27.90
Pumpkin and Sage Spaghetti
With feta, spinach and a touch of sour cream, sprinkled with hazelnuts
$23.90
Chicken Risotto
Grilled chicken breast with mushroom, sage and asparagus,finished with local shaved parmesan
$25.90
Labna and Hummus Dips
With olives oil and mint flakes, served with warmed olives and bread
$16.90
Calamari Zanetti
Fresh calamari tossed in flour, lightly fried, served on a rocket salad with roasted capsicum, cucumber, tomato, feta and olives
$17.90
Seafood Chowder
Traditional chowder with scallops, prawns and calamari
$15.00
Tomato and Balsamic Bruschetta
$10.90
San Pellegrino Mineral Water (500ml)
$5.00
San Pelegrino Flavoured Mineral Water
$4.00
Grilled Fish of the Day
On a bed of risotto, sauteed vegetables with a chardonnay lemon sauce
$31.90
Veggie Stack
A leek and saffron risotto, stacked with seasonal sauteed veggies and spinach, topped with haloumi, and drizzled with a balsamic reduction
$25.50
Dukkah Spiced Lamb Fillets
Grilled lamb fillets, served with spinach, and saffron flavoured coconut and almond rice, with a spicy lentil broth on the side
$28.00
Paella
Fresh seafood, chicken, chorizo sausage, turmeric flavoured rice and fresh tomato, slowly baked and served with fresh lemon and rocket
$27.90
Lemon Pepper Calamari
Lightly fried calamari dusted with lemon pepper, on a bed of julienne carrots, cucumber and capsicum, with radicchio, rocket, feta and balsamic dressing
$21.90
Black Angus Porterhouse Steak
With roasted herbed potatoes, sauteed mushrooms and a red wine jus
$32.50
Pork Belly
Marinated then slow cooked, served on a potato croquette surrounded by a lemongrass and coriander flavoured jus, served with a watercress and julienned vegetable salad
$30.90
Tagine Style Chicken
Slow cooked tender chicken, with moroccan spices, capsicum and olives, topped with yoghurt and accompanied by saffron rice, almonds and fresh coriander
$27.90
Beef Burger
With tomato, lettuce, cheese and bacon, served with country fries and house made aioli
$20.00
Eye Fillet (300g) - Dinner Only
Grilled to your liking, on a bed of tarragon buttermilk mashed potatoes, topped with sauteed baby spinach and crispy leek, finished with a red wine reduction
$34.90
Chicken Supreme - Dinner Only
Grilled chicken breast, with roasted capsicum, caramelised onions and olives in a fresh tomato based sauce, served with potatoes and sauteed vegetables, garnished with parmesan
$27.90
Grilled Tuna Salad
200gr Fresh tuna grilled to your liking, with grean beans, cos lettuce, olives and chery tomatto, topped with seeded mustard dressing and fresh mint
$29.00
Mild Mexican
Calabrese salami, caramelised onions, roasted peppers, house made tomato salsa, tasty cheese and green leaves
$15.90
Vegetarian
Grilled eggplant, pumpkin, feta, roasted peppers, pesto and spinach
$15.90
Ham, Tasty Cheese and Tomato
$15.90
Caesar Salad
Baby cos lettuce, bacon, anchovies and poached free range eggs, served with our house made aioli and herbed croutons
$18.90
Panko Crumbed Chicken
With avocado, bacon, tomato, tasty cheese, house made mayo and green leaves
$15.90
BLT
Crispy bacon, cos lettuce, tomato, tasty cheese and house made mayo
$15.90
Mediterranean Spiced Warm Chicken Salad
With warm potatoes, roasted peppers, green leaves and a house made mayo dressing
$18.90
Root Vegetable Salad
Roasted pumpkin, carrot and beetroot with feta, on green leaves with a pomegranate syrup dressing and sprinkled with sesame seeds
$17.90
Contact Us
Find Us
2/132-138 Upper Heidelberg Road, Ivanhoe, 3079
Opening Hours
Monday
7:00 AM - 10:00 PM
Tuesday
7:00 AM - 10:00 PM
Wednesday
7:00 AM - 10:00 PM
Thursday
7:00 AM - 10:00 PM
Friday
7:00 AM - 10:00 PM
Saturday
7:00 AM - 10:00 PM
Sunday
7:00 AM - 10:00 PM
Please note, delivery times may vary.
We deliver to
3079 Ivanhoe